#ShineOnSwindon with Swindon's Bus Company
1 month ago Wed 12th Aug 2020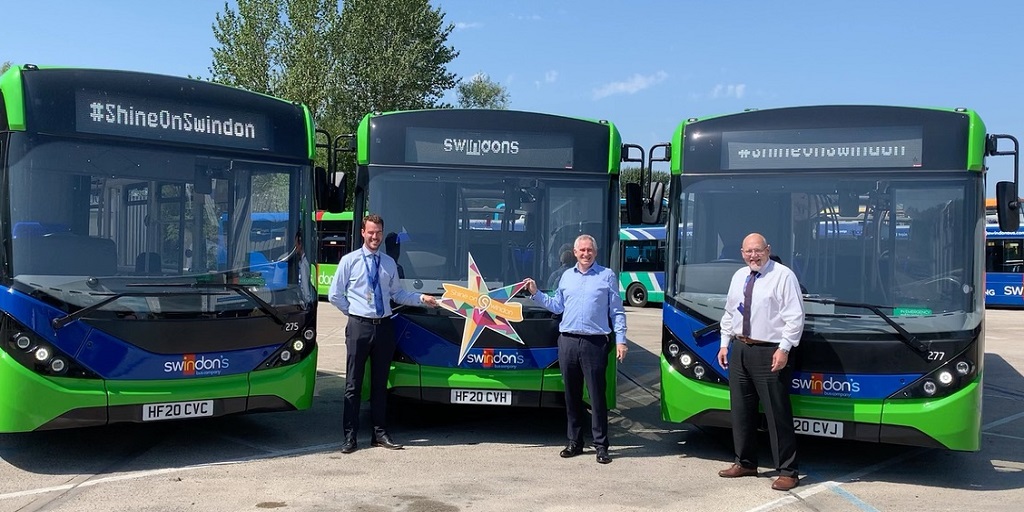 The inSwindon BID #ShineOnSwindon campaign which launched on 23 June, welcomes businesses back into the town centre with a window decal star filled with colour as a symbol of support. As part of the ongoing campaign, inSwindon BID has been engaging with us.
Chairman of inSwindon BID Ian Larrard joined General Manager of Swindon's Bus Company and inSwindon BID Board Member, Alex Chutter, to welcome six new 20 plate buses into the town centre with the decal star at their Swindon depot.
Alex Chutter, commented on the #ShineOnSwindon campaign: "Swindon's Bus Company plays a major role in getting people in and out of the town centre safely. Face coverings on public transport has been mandatory since 15 June, the same date non-essential retailers opened. It's by working in conjunction with organisations such as inSwindon BID, that we can help boost the confidence in people returning to some normality, and that starts by supporting our local economy. The #ShineOnSwindon campaign has done a fantastic job in raising the profile of businesses within the town centre, demonstrating that they are ready and open. As a company we are proud to display these stars on our new 20 plate buses and be a part of a much wider campaign."
Ian Larrard identified the need for collaboration within businesses across the town centre: "I'm delighted by the success of the #ShineOnSwindon campaign. I have been out to several businesses myself have now broadened our reach of the campaign by displaying the stars within some of the buses that service the town centre and we would like to thank Swindon's Bus Company for their support.
They have done a fantastic job of keeping public transport moving during the pandemic, allowing key workers to carry out their vital roles in keeping us safe. It has been a challenging time, but I believe through the support networks available, and by businesses working in collaboration, we will continue to increase consumer confidence."
The window decal star is the first part of the new #ShineOnSwindon campaign from inSwindon BID and over the coming months visitors to the town centre can expect to see a variety of visual, digital and virtual experiences launching on the lead up to Christmas.