Swindon's Bus Company unveils new British-built buses
8 months ago Mon 19th Oct 2020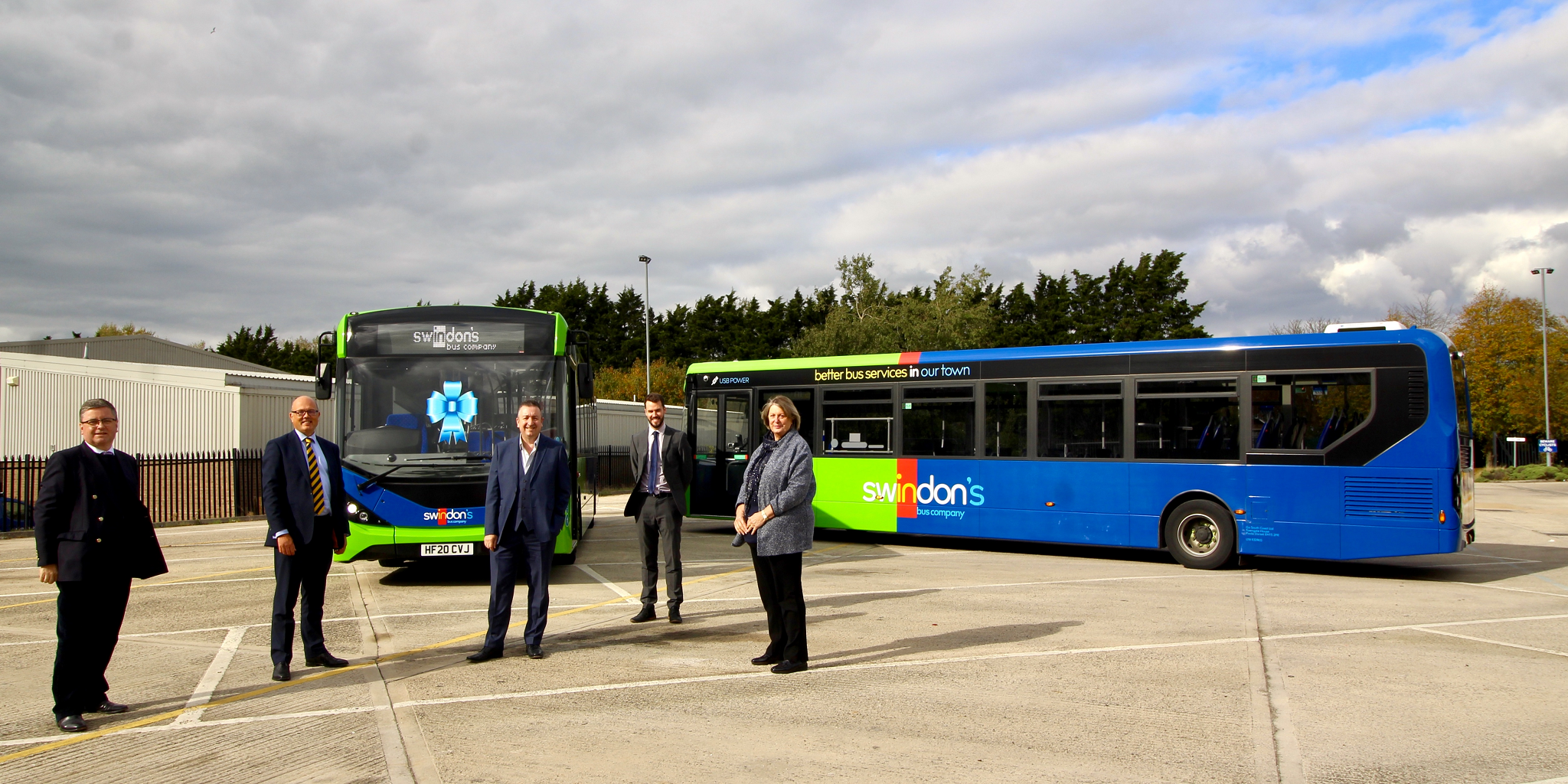 Our customers can now enjoy some brand new buses when travelling across the town.
We were joined by Robert Buckland MP and Swindon councillors to unveil our six new British-built Alexander Dennis Enviro 200 MMC vehicles.
These new buses form part of our investment for sustainable transport in the region. We're proud to say that we've added 27 brand new vehicles to our fleet during the last three years - each of the buses sports the latest Euro 6 low emissions engine, the cleanest standard for diesel.
Our new buses will run on the 13 and 14 routes, which serve Eldene, Liden and Dorcan.
Swindon's Bus Company managing, Andrew Wickham, had this to say about our latest additions:
"These past months have been particularly challenging, and our team of key workers has been working incredibly hard transporting those making essential journeys throughout the coronavirus crisis."
"We made this investment prior to lockdown, and we are pleased to be introducing them to our customers across Swindon. One positive to come from the past months, is that the area's congestion has greatly reduced.
"This is a chance for us to build on that. We want to encourage local people to leave their cars at home and travel on sustainable transport now the government has eased lockdown in our area.
"These buses represent more than £900K investment and have the potential to take a number of cars off the road - even whilst social distancing measures are in place.
"Our team is very much looking forward to a time when these buses are full of passengers working, shopping and enjoying social occasions."
Robert Buckland MP added: "I am pleased that Swindon's Bus Company is committed to investing in Swindon with sustainable transport and I was delighted to attend the unveiling of these six new British-built Alexander Dennis Enviro 200 MMC vehicles.
"I would like to thank all of the dedicated team members at Swindon's Bus Company who have worked extremely hard in difficult circumstances to provide transport during the COVID-19 Pandemic, especially for our many key workers across the town."
Councillor Maureen Penny, Swindon Borough Council's Cabinet Member for Highways, Maintenance and Waste Services, said: "I am really pleased Swindon's Bus Company has invested such a significant amount of money in upgrading its fleet of buses which will not only be great for passengers, but also kinder to the environment.
"We want more people to use sustainable transport as part our Carbon Reduction Strategy, which is why we have invested millions of pounds in recent years on fantastic new cycle routes and bus corridors.
"I would encourage people living in Eldene, Liden and Dorcan who may ordinarily travel by car, to leave their cars at home and give these brand-new buses a try."
We hope you enjoy the new buses and, as always, we hope to see you on board soon!